令和元年度 第4回VBLセミナー
日時:令和元年10 月4 日(金)16 時00 分~17 時30 分
場所:工学研究科 1 号館 10 階 1101 講義室
<![CDATA[ ]]>
講師:Mihail-Dumitru Barboiu 教授( Institut Européen des
Membranes de Montpellier, CNRS, フランス)(VBL 客員教授)
<![CDATA[ ]]>
<![CDATA[ ]]>

information
題目:<![CDATA[ ]]>Artificial Water Channels
<![CDATA[ ]]>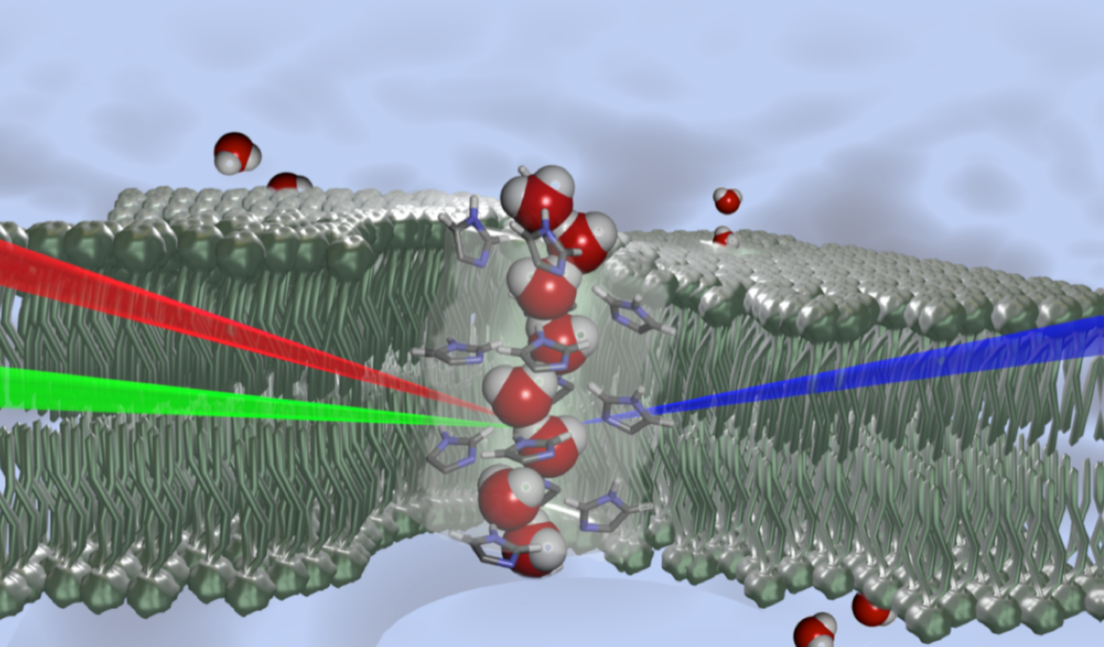 要旨: This lecture discusses the incipient development of the first artificial water<![CDATA[ ]]>channels systems. We include only systems that integrate synthetic elements in their<![CDATA[ ]]>water selective translocation unit. Therefore, we exclude peptide channels because<![CDATA[ ]]>their sequences derive from the proteins in natural channels. We review many of the<![CDATA[ ]]>natural systems involved in water and related proton transport processes. We<![CDATA[ ]]>describe how these systems can fit within our primary goal of maintaining natural<![CDATA[ ]]>function within bio-assisted artificial systems. In the last part, we present several<![CDATA[ ]]>inspiring breakthroughs from the last decade in the field of biomimetic artificial water<![CDATA[ ]]>channels. All these examples demonstrate how the novel interactive water-channels<![CDATA[ ]]>can parallel biomolecular<![CDATA[ ]]>systems. At the same time<![CDATA[ ]]>these simpler artificial water<![CDATA[ ]]>channels offer a means of<![CDATA[ ]]>understanding water structures<![CDATA[ ]]>useful to understanding many<![CDATA[ ]]>biological scenarios. Moreover<![CDATA[ ]]>they can be used for the<![CDATA[ ]]>preparation of highly selective<![CDATA[ ]]>membranes for desalination.
<![CDATA[ ]]>
References:
<![CDATA[ ]]>(1) M. Barboiu and A. Gilles, Acc. Chem. Res. 2013, 46, 2814–2823. (2) M. Barboiu,<![CDATA[ ]]>Angew. Chem. Int. Ed. 2012, 51, 11674–11676. (3) Y. Le Duc, et al., Angew. Chem.<![CDATA[ ]]>Int. Ed. 2011, 50, 11366–11372. (4) E. Licsandru, et al., J. Am. Chem. Soc. 2016,<![CDATA[ ]]>138, 5403–5409. (5) M. Barboiu, Chem. Commun. 2016, 52, 5657–5665. (6) I.<![CDATA[ ]]>Kocsis, et al., Science Adv. 2018, 4, eaao5603.
<![CDATA[ ]]>
問い合わせ先:
大学院工学研究科<![CDATA[ ]]>有機・高分子化学専攻
八島栄次
Tel: 052-789-4495, Fax: 052-789-3185
E-mail: yashima[At]chembio.nagoya-u.ac.jp
<![CDATA[ ]]>
<![CDATA[ ]]>
<![CDATA[ ]]>
第23回 VBLシンポジウム

「原子層材料:新材料・新機能の探索と応用の可能性」
<![CDATA[ ]]>本シンポジウムは11月7日午後の講義と併せて最先端理工学特論の1単位になります。
受講希望者は工学研究科教務にて書類を受け取って下さい。
<![CDATA[ ]]>
<![CDATA[ ]]>
主旨:<![CDATA[ ]]>グラフェンの発見以来、層状物質を単層膜させた「原子層材料」が極めて注目されている。単層化された層状物質は多層構造とは全く異なる物性を示し、それだけで新材料となる。加えて、現在、単層材料を組み合わせたヘテロ構造も実現されており、化学、物理、工学におよぶ幅広い分野にて重要な研究領域に成長している。本シンポジウムでは、原子層材料の"新材料"・"新物性"をキーワードに著名な講師から最先端の研究内容と将来の応用に関する講演を行う。専門外の学生や研究者の出席を想定し、講演者には基礎から応用までわかりやすく説明をしてくださるようにお願いすることで、幅広い分野の研究者の交流と融合を目指す。「原子層材料」の基礎から応用、今後のビジネス展開を含め、学び、考え、議論する機会を提供したい。<![CDATA[ ]]>
<![CDATA[ ]]>
開催日:2019年11月6日(水)、7日(木)
会 場:名古屋大学フロンティアプラザ (ベンチャー・ビジネス・ラボラトリー)3階 ベンチャーホール
参加費:無料(ただし懇親会参加者には懇親会費3,000円を当日申し受けます)
参加申し込み:参加を希望される方の1)ご氏名、2)ご所属、3)懇親会参加希望の有無を
10月23日(水)までにFAX、または電子メールでお知らせ下さい。
電子メール:


<![CDATA[ ]]>
<![CDATA[ ]]>
プログラム
2019年11月6日(水)
| | |
| --- | --- |
| | |
| | 齋藤 理一郎 先生(東北大学)「原子層材料における円偏光発光」(60分) |
| | 柚原 淳司 先生(工学研究科エネルギー理工学専攻)「14族元素からなるポストグラフェン物質の創製と構造評価」(45分) |
| | 長汐 晃輔 先生(東京大学)「二次元層状SnSの圧電・強誘電特性」(60分) |
| | <![CDATA[ ]]>洗平 昌晃 先生(未来材料・システム研究所)「IV族二次元物質に関する第一原理計算」(45分) |
| | 丸山 茂夫 先生(東京大学)「原子層材料ナノチューブ」(60分)<![CDATA[ ]]> |
| | |
<![CDATA[ ]]>
2019年11月7日(木)
| | |
| --- | --- |
| | 町田 友樹 先生(東京大学)「ヘテロ積層原子層材料の物性物理」(60分) |
| | 蒲 江 先生(工学研究科応用物理学専攻)「原子層材料を用いた発光素子」(45分) |
| | 北浦 良 先生(理学研究科物質理学専攻)「ヘテロ積層原子層材料の成長」(45分) |
| | 閉会挨拶 大野雄高 (未来材料・システム研究所) (5分) |
2019年度 第2回VBLセミナー
日時:2019年6月4日(火)10時30分~12時00分
場所:ベンチャー・ビジネス・ラボラトリー 3階ミーティングルーム
講師:Saida Mayela García Montes准教授
(Universidad Autónoma de Nuevo León (メキシコ),<![CDATA[ ]]>(VBL客員准教授)
<![CDATA[ ]]>
<![CDATA[ ]]>
題目:<![CDATA[ ]]>SURFACE MODIFIED HAFNIUM OXIDE NANOPARTICLES WITH ORGANIC ACIDS SYNTHESIZED IN SUPERCRITICAL WATER


information
<![CDATA[ ]]>
Abstract:<![CDATA[ ]]>Hafnium oxide nanoparticles were synthesized under supercritical water with and without organic acid surface modifiers to produce grafted nanocrystals. The materials synthesized displayed unique controlled-shaped morphologies by using either propionic acid, citric acid, 3,4- dihydroxybenzoic acid or gallic acid as demonstrated by transmission electron microscopy. X-Ray diffraction analysis showed that monoclinic Hafnium oxide nanocrystals were synthesized in this manner. In such syntheses, organic acid molecules directly interact with the nanocrystal surface through carboxylate bondings. Chemical bonding of organic acids grafting the surface of the nanoparticles was evaluated by Fourier transform infrared spectroscopy. The grafting density was quantified from the weight loss measured using thermogravimetric analysis. Nanospheres and nanorods were obtained by tunning the surface modifiers and the supercritical conditions of the synthesis.
<![CDATA[ ]]>
Keywords: Hafnium oxide, supercritical water, Organic acid grafting
<![CDATA[ ]]>
問い合わせ先:
名古屋大学 大学院工学研究科 物質プロセス工学専攻
髙見誠一
Tel: 052-789-3275, Fax: 052-789-3273
E-mail: takami.seiichi[at]material.nagoya-u.ac.jp
<![CDATA[ ]]>
2019年度 第1回VBLセミナー
日時:2019年4月24日(水)16時30分~17時30分
場所:ベンチャー・ビジネス・ラボラトリー 3階ベンチャーホール
講師:Christophe Sinturel教授
(CNRS-Universite d'Oreleans, フランス)(VBL客員教授)
<![CDATA[ ]]>
題目: Block-Polymer Thin Films for Nanopatterning Applications


information
<![CDATA[ ]]>
Professor Christophe Sinturel is one of the leading scientists in morphology control of complex polymer systems such as block copolymers or polymer blends in thin film states and its possible application. Particularly he has attained several excellent achievements by using a clever solvent annealing method. The scientists or students other than polymer science field can also enjoy this lecture.
<![CDATA[ ]]>
VBL 客員教授として本学を訪問されるオルレアン大学(仏)のChristophe Sinturel 教授によるセミナーを開催いたします。Sinturel 教授はブロック共重合体が薄膜中で作る規則構造制御の第一人者です。安定構造を作り出す際に溶媒の力を上手く引き出す「溶媒アニール」の手法などで、卓越した成果を挙げておられます。構造解析には、TEM, SEM, GISAXS などを駆使し、バルクフィルムとは異なる構造構築原理を提案しています。見かけは物理的側面が前面に出た成果ですが、物質に対する化学的性質を活かすことが制御法の基本ですので、化学・物理両分野の教員、学生にとって意義のある講演になると考えています。また、本セミナーは、Nina Berova先生(ホスト:八島栄次教授)のご講演(15:30–16:30)と連続で行う予定です。
皆様、ご来聴いただければ幸いです。
<![CDATA[ ]]>
<![CDATA[ ]]>
問い合わせ先:
名古屋大学 大学院工学研究科 有機・高分子化学専攻
松下 裕秀
Tel: 052-789-3211, Fax: 052-789-3210
E-mail: yushu[at]chembio.nagoya-u.ac.jp
<![CDATA[ ]]>
平成30年度 第5回VBLセミナー
日時:平成30年11月27日(火)15時00分~16時30分
場所:工学研究科 1号館 4階 144講義室
<![CDATA[ ]]>
講師:Rodolfo Morales Ibarra特任准教授
(VBL外国人客員教員、Universidad Autónoma de Nuevo León
(メキシコ))
<![CDATA[ ]]>
題目:Graphene Exfoliation from Graphite by Supercritical Water and other Supercritical Fluids
<![CDATA[ ]]>
要旨:Graphene is an unconventional material with a two-dimensional hexagonal crystalline array of elemental carbon atoms and outstanding properties; accordingly, a desirable objective in the line of research of graphene is the development of novel and more productive methods of synthesis, validating its properties and applications. In our exploratory research we have effectively exfoliated graphene from graphite using supercritical fluids (water, ethanol and carbon dioxide). The exfoliated graphene was properly characterized; via scanning electron microscopy the morphology of graphene was observed; transmission electron microscopy analysis exhibited the crystalline structure of graphene attesting also the expected transparency of exfoliated layers; the Raman spectra confirmed the exfoliation of graphene depicting the characteristic shift towards smaller Raman number in the 2D band (2676 cm-1) compared to that of graphite. Graphene exfoliation from graphite by supercritical fluids promises to be a simple and large-scale method for graphene production.
<![CDATA[ ]]>

Keywords: Graphene; Exfoliation; Supercritical Water; Supercritical Fluids
<![CDATA[ ]]>


information
<![CDATA[ ]]>
問い合わせ先:
名古屋大学 大学院工学研究科 物質プロセス工学専攻
後藤元信
Tel: 052-789-3392, Fax: 052-789-3389
E-mail: goto.motonobu[at]material.nagoya-u.ac.jp
<![CDATA[ ]]>
平成30年度 第3回VBLセミナー
日時:平成30年11月12日(月)13時00分~14時30分
場所:工学部1号館4階141講義室
<![CDATA[ ]]>
<![CDATA[ ]]>
講師:Cyrille Boyer特任教授(VBL外国人客員教員、University of New South Wales(豪州))
題目: Precision Polymer Synthesis Using Visible Light
<![CDATA[ ]]>
<![CDATA[ ]]>
要旨:
In the last 10 years, visible-light-regulated polymerization has generated lot of interests, as it confers a range of new opportunities for the synthesis of functional polymers and materials. These polymerizations are usually controlled using a photoredox catalyst (molecule which can absorb light and performs redox reactions). Under light, these catalysts can transfer an electron or energy and then catalyze chemical reactions. Such catalysts have been successfully employed in organic synthesis as well as polymer synthesis. The first example in polymer synthesis was reported by Fors and Hawker for an atom transfer radical polymerization. Inspired by this work, we have implemented these catalysts in reversible addition-fragmentation chain-transfer polymerization, named photoinduced electron/energy transfer – reversible addition fragmentation chain transfer (PET-RAFT) polymerization. In the last five years, we have developed a range of photocatalysts able to activate PET-RAFT polymerization under various conditions. The recent development has solved important challenges in polymer chemistry, such as the development of oxygen-tolerant polymerization, polymerization mediated by near-infrared, metal-free polymerization, and spatial-, temporal- and sequence- controlled polymerization as well as allowed the synthesis of complex materials.


information
<![CDATA[ ]]>
問い合わせ先:
名古屋大学 大学院工学研究科 有機・高分子化学専攻
上垣外正己
Tel: 052-789-5400, Fax: 052-789-5112
E-mail: kamigait[at]chembio.nagoya-u.ac.jp
<![CDATA[ ]]>