Architectural Design of Facilities
 An important ingredient to high-quality research and teaching is a stimulating atmosphere, a pleasant, efficient environment, and an open architectural style that invites discussions and makes it easy to meet. Indeed, the NU VBL building was carefully designed to provide all of these prerequisites for creative research and educational environment.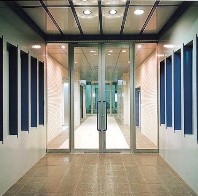 Lecturing Environment
●Conference Room
Equipped with 80 seats and the latest AV equipment. By removing a partition between this room and the lounge, more seats can be generated.

●Seminar Room
Suitable for meetings and small seminars with 25 seats.

●Frontier Studio
Room for computer based lectures and trainings. The furniture may be rearranged to suit various needs.

●Lounge
Space for informal meetings, discussions, and seminars. Cozy wooden furniture, including tables, a bar counter, etc can be easily rearranged to provide comfortable settings.

●Graduate Students Study Lounge
Mobile furniture and rooms with no fixed walls permit various arrangements for working in groups or individually. Plenty of ethernet connections provide convenient access of mobile computers to the campus' computer network.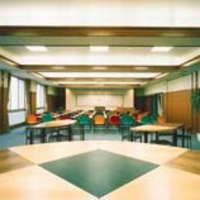 Design of Facilities
The lower floors contain modern laboratories such as clean rooms, whereas the upper floors offer versatile smaller labs, office space, seminar rooms, and refreshment facilities.

All pipes, ducts, and cables have been arranged centrally in the middle of the lower floors so that new experimental equipment can be added easily and efficiently. On the upper floors, a skylight garden in the center of the building provides a bright and naturally illuminated interior space.
All rooms have adjustable floor plans and provide an ample number of ethernet plugs that make it easy to connect to the university's computer network from anywhere in the building.

The core facilities such as lobbies, elevators and restrooms have been concentrated on the east side of the building. In this way, no corridors are needed which allows one to easily convert an entire floor into one single large lecture hall or, alternatively, into several lab or seminar rooms. We consider this a test-bed for the design of future research institutes.

Great care has been taken to match color, layout and design of each room to make it a pleasant and convenient professional work-place. Refreshment corners not only enhance the users' comfort but are also meeting-places that will stimulate discussions.